Meet Our Team
K.C. Cerny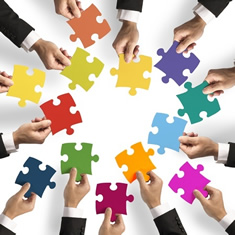 K.C. founded Management Information Analysis in 1990 with the  goal of providing analysis to support corporate decision making. Over the years, he has helped build a well-rounded team. Corporations increasingly capture more and more data, without having a centralized solution to process it, and often they have multiple warring information systems. Having a team that can unravel and manage data allows us to support quantitative decision making at a very high level.
Dr. Cerny received a BA from Princeton University and Ph.D. from the University of Texas at Austin, TX.
Sean Ramsdale
Sean manages the development and application of analysis necessary for feasibility studies and strategic planning. She specializes in creating models to project demand, researching health care trends, market share studies, patient volume profiles and building indexes used to differentiate geographic areas of a market. Prior to joining MIA in 1995, Sean was a planning analyst at the Texas Hospital Association, where she designed and analyzed marketing research surveys and developed environmental assessments.
Sean earned a Bachelor of Business Administration from The University of Texas at Austin,TX and a Masters of Business Administration from St. Edward's University in Austin, TX.
Brent Cates
Brent is a Project Manager / Senior Developer with over 15 year experience developing software at MIA to solve our clients' ever changing needs. He leads a high performance team of developers to create robust and efficient software ranging from simple e-commerce sites to complete company-wide systems integrations. Brent specializes in complex database algorithm development as well as top level application design. No matter what your company needs we can produce the software to solve it.
Brent holds a Bachelor of Science degree in Computer Science with a minor in Psychology from Texas State University, San Marcos, TX.
Tim Sherman
Tim has 15+ years of experience designing, developing and deploying customized software solutions for various clients. His ability to analyze data and investigate how customers use their various data systems enables him to identify bottlenecks in workflow and provide comprehensive recommendations for process improvement. With his extensive programming skills, Tim helps bridge the gap between management and technical staff, allowing customers to realize maximum benefit of available technologies. Whether developing ground-up software systems, or tweaking existing systems to achieve desired results, Tim's expertise can help your company leverage technology to its fullest potential.
Tim holds a Bachelor of Science degree in Urban and Regional Planning with a minor in Computer Science from Texas State University, San Marcos, TX.
Omar Torrez
Omar joined MIA in early 2009. Omar's ability to quickly learn new skills and assimilate new information makes him adept at working on a diverse array of projects. His contributions to MIA include development of sustainable database processes to address complex reporting and data infrastructure needs, ad-hoc reporting and development/maintenance of web applications.
Omar's experience includes database design, development and code tuning, database procedural and query languages, ETL, OOA, OOD, OOP, UML, .NET, Java, Scrum/Agile software development, distributed and n-tier application development, technical documentation and shell scripting.
Omar earned a BS in computer science from the University of Texas at El Paso, TX's College of Engineering (ABET CAC accredited).
Shirsha Bose
Shirsha joined MIA in 2009. She primarily works on application development and maintenance. She is also responsible for customer specific data analysis and reports. Her accomplishments include creating a universal master database of all Central Texas physicians, which automatically merges and scores data from disparate sources. She has developed multiple web enabled applications to automate MIA's proprietary healthcare need forecasting models.
Shirsha has experience working with Oracle, Postgres and MYSQL database platforms. She is proficient in PL/SQL, C/C++, Java, C # and ASP.NET framework.
Shirsha completed her MS in computer science from Texas State University, San Marcos, TX.
Sailaja Uppalapatti
Sailaja joined MIA in 2013. Her responsibilities includes data analysis, database and web development. Proficient in multiple programming languages which includes C, C++, C#, Visual Basic, PHP, Java, Oracle PL/SQL, HTML and JavaScript. She is experienced working with Oracle, SQL Server and Postgres database platforms. Her strengths include automating repetitive, time consuming manual tasks, creating client-specific reports by writing complex SQL statements for large scale databases.
Sailaja received a Master of Science degree with a major in Computer Science from the University of Texas at San Antonio, TX.