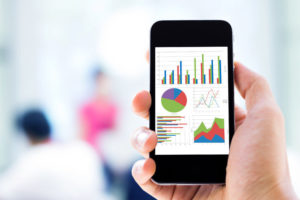 Gartner analyst Ted Friedman believes that mobile delivery of BI is all about practical, tactical information needed to make immediate decisions. Friedman states, "The biggest value is in operational BI—information in the context of applications—not in pushing lots of data to somebody's phone."
Accessing the Internet through a mobile device such as a smartphone is also known as the mobile Internet or mobile Web. IDC expects the US mobile workforce to increase nearly 73 percent by 2020. Morgan Stanley reports the mobile Internet is ramping up faster than its predecessor, the desktop Internet, enabling companies to deliver knowledge to their mobile workforce to help them make more profitable decisions.
Michael Cooney from Gartner has identified "bring-your-own-technology at work" as becoming the norm, not the exception. By the end of this year, media tablet shipments will reach around 50 percent of laptop shipments.
In one of its latest Magic Quadrant for Business Intelligence Platforms, Gartner examines whether the platform enables users to "fully interact with BI content delivered to mobile devices." The phrase "fully interact" is the key. The ability to send alerts embedded in emails, text messages, or links to static content in email messages hardly represents sophistication in mobile analytics.
For users to benefit from mobile BI, they must be able to navigate dashboard and guided analytics comfortably—or as comfortably as the mobile device will allow, which is where devices with high-resolution screens and touch interfaces have a clear edge.
It is equally important to take a step back to define your purpose and adoption patterns. Which business users can benefit the most from mobile analytics, and what exactly is their requirement? You don't need mobile analytics to send a few alerts or summary reports to their handhelds; without interactivity, mobile BI is indistinguishable from merely informative email or text messages.
Mobile BI applications have evolved from being a client application for viewing data to a purpose-built application designed to provide information and workflows necessary to quickly make business decisions and take action.
Our data integration and custom application development expertise allows our analysts to load, transform, mix, and match data sets as needed. We can blend internal with external data sources to establish historical trends and project need and demand, which are the backbone of any feasibility study.
Now that we have some clarity on the mobile BI process and highly positive business outcomes, call us for a friendly conversation about your data and how we can elevate it to make savvy and connected business decisions and plans. We're easy to talk to and we listen well. 512.478.384.
We also welcome you to share your thoughts and success stories by emailing us at Kcerny@mia-consulting.com. We'll share too.