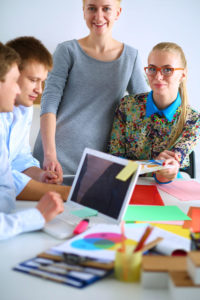 Your own solution:
Every company has unique business needs. As a result of co-working with a custom software developer, you become the owner of applications that meet all your requirements. Companies often adapt their practices to how the applications work. You need to do the opposite. Custom software development services help you remain and become more competitive. It also has a major impact on productivity since the package of software is tailored to your needs. You no longer have to "share" the same solutions with others.
Support and updates:
With custom applications, your work is not dependent on the provider's development cycle. You are in charge of all the updates and improvements. Working with in-house developers is only more efficient when your analysts do not have competing priorities. You have more personalized support using your outsourced partner. The team is aware of your individual requirements. As well, you have fewer troubles with hardware environment for applications' hosting. Custom solutions do not need specific hosting. Applications are adapted to your existing server environment. You no longer have to pay twice as much for having twice as less.
Remember, in-house developers' reputation and future business is riding on how successfully they develop your custom applications.
Virtually no security issues:
Using packaged software is risky. If someone hacks the software, all the companies using it are in danger of losing proprietary information. Custom software development teams provide their clients with applications that may only be affected by targeted attacks. Your application needs to have extra security measures to ensure its safety.
A custom data management application partner may also enhance your solution's integration with other software. It makes your team's work much more intuitive and easy.
Step-by-step production:
Custom software can be produced in chunks. It means that you can run MVP versions several times to check if there is a tight fit to your business and its data management needs. You may add or alter certain parts. Professional developers will help you achieve high performance of your application.
Every project is unique and has its own requirements. If your choice is based on certain needs and budget, you will be able to come up with the right decision. Even so, we can assist you with best practices information and processes. You need to know the differences between development teams. Also, you should be aware of proper requirement analysis.
These guidelines will be almost enough. You need to define what kind of business problems your application will be solving. We need to be especially clear that this step is essential for young companies. You indeed know that you have to work with the right people to achieve success.
Our data integration and custom application development expertise allows our analysts to load, transform, mix, and match data sets as needed. We can blend internal with external data sources to establish historical trends and to project need and demand, which are the backbone of any feasibility study.
Now that we have some clarity on process and really positive business outcomes, call us for a friendly conversation about your data and how we can elevate it to make really savvy business decisions and plans. We're easy to talk to and we listen well. 512.478.3848.
Or, you can share your thoughts and success stories by emailing us at kcerny@mia-consulting.com. We'll share too.