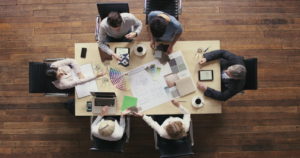 Forrester Reveals Value and Challenges in Outsourcing Custom Software Development.
Titled "Drive Innovation Using the Right Skills: The Value of Custom Software Development," the report is based on an online survey taken by 200 IT and business leaders from enterprises in various industries in the United States, the U.K., and Australia.
The financial services and insurance industry comprises 22% of the respondents, followed by manufacturing and materials (13%), retail (10%), business or consumer services (8%), healthcare (6%), and so on. Technology companies account for only 4% of the respondents.
Why Custom Software?
According to the report, the respondents said they use custom development for at least 30% of their systems and applications, and 50% of them outsource this work because they lack the resources and the skills necessary to create custom solutions. Not only that, but 82% of the respondents said that custom software beats off-the-shelf software when it comes to meeting their business needs.
Unfortunately, the picture isn't entirely rosy. While many of the companies outsource custom software development to third-party providers, satisfaction rates are low. Over 50% of respondents were unsatisfied with vendors' product release frequency, the speed of development, the developers' ability to work autonomously, the development processes used (such as Agile), and the quality of the final product, to name a few categories.
When selecting a third-party vendor, 28% of respondents said the biggest challenge was finding a company with "the right combination of technical skills, industry knowledge, design capability, and development and delivery skills," according to the report.
What are your better choices?
So clearly there's a sweet spot for custom software development firms. Those that have the technical prowess, operate autonomously, and deliver a quality product on time will be the most sought after third-party providers. As they should be.
We have said this before but it bears repeating for one compelling reason: creating and deploying custom applications is a process, not a destination. And that will continue as we get smarter about our owned data usage and parsing through and applying big data to make better strategic and tactical decisions.
You DO NOT have to bet the farm and the horses to get where you want to go with your data and analytics assets.
Engage a successful, seasoned thought partner to get a value-laden perspective. Our Austin, Texas location keeps us at the epicenter of planning analytics and data-driven innovation and keeps our global capabilities and services at the forefront of our industry.
Email us at kcerny@mia-consulting.com or call us at 512-478-3848 to start a friendly, productive conversation.