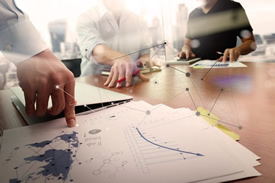 Custom data is in our brains.
Why have we invested time and talent for the past 15 months to help you get your head, arms and budget around ETL Plus, custom apps development and analytics as a part of your daily breakfast? Well, those fun folks at Gartner are up to it again.
This time it's the outpouring from their analytics thought partner summit in Texas last month.
In the opening keynote at the 2016 Business Intelligence Summit, Gartner analysts Rita Sallam and Frank Buytendijk shared an interesting stat in their presentation, Analytics Leadership – Empowerment without Anarchy, by 2017, 10% of businesses will have a separate business unit dedicated to productizing data.
The goal of these business units, headed up by Chief Analytics Officers (CAOs), Chief Data Officers (CDOs), and Chief Information Officers (CIOs), are to empower users throughout the organization with tools, instead of just provide static reports and dashboards. That leads us to our next observation: generating business value is a team activity.
With the evolution of analytics, there are many rapidly emerging roles along the entire data pipeline to ease the flow of data from raw sources to end business metrics.
The growth of self-service analytics is fueled by an increasing necessity among these emerging roles: business analysts, information activists, and citizen data scientists.
These roles need to collaborate with others in the pipeline, and the collaboration of all of these roles requires data governance, another theme at the show that emerged so that data that is being analyzed can be properly managed.
Data is no longer a nice-to-have. It is now a core part of businesses. The need to access all sources of data, big data included, that are now available and able to be accessed is critical to business growth. Every industry is becoming an analytics industry because of the inclusion of data-driven technology.
Traditional industries, such as healthcare and finance, are actually purchasing analytic technologies with the intent of becoming digital leaders in their industry.
Takeaways for the real world of your business data management and analytics ecosystem and so you can make it to Friday happy hour with a smile on your face:
ETL Plus is the fastest, most efficient way to get your data out of its old silos and into the mix of the internal and big data you must use to exceed your key performance objectives.
Outsourcing your custom applications development to an experienced team of analysts who are non-agenda high performers accelerates you to mastery of your custom data.
Engaging and challenging an analytics leader with deep experience across spaces from retail to healthcare gets you clear and comfortable with best choices and practices.
Bring us into your strategic conversations.
As an experienced analytics thought partner, we'll give you new insights into your internal processes, buyer discovery trends, measure progress toward a set of quantitative goals, flag shifts in your markets or financial operations and even lift your customer experiences to a higher level of satisfaction.
Call us to start a neutral and friendly conversation: 512-478-3848.
We have some success stories to share that tell you we can help with latch on to a partner who can accelerate your data transformation, making your data visual and your planning analytics to the level of agile!