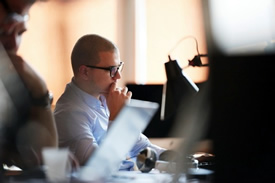 A lot of the dirty work in data science is ETL – the process of putting data through a meat grinder. Data may present itself in the form of a public or purchased dataset, and it almost never lines up with the way you want to query, index, or present it.
To frame the problem a bit more, most modern data transformation tools like Apache Spark or Python notebook tools are bred for interactive development. They're meant to make it fast and easy to get started, simple to share. Never confuse these things with being production-ready.
Would your organization ever feel good about deploying some code to production that had no tests? Spark and notebooks should be considered prototyping unless proven otherwise. There is nothing wrong with prototyping, but you want some safety mechanisms before considering something production-ready. Outsourcing is a wise choice for your ETL Plus work.
Some of the benefits:
Speed of data transformation
Investment is clear and defined.
Results are shaped to where you are going, not where you were.
Accountability and transparency are integral parts of the process.
Your ETL partner needs to have the understanding and expertise to lead your organization down the right path. They should not only understand your requirements, they should be able to help you to better define them up front and adapt them over time.
ETL is not a one-off activity. It's an on-going process that must be sustained indefinitely.
Your ETL partner needs to be just that—your partner. They must be well aligned with your business in order to maintain your marketing data over time and adapt your data structure to accommodate your ever-changing needs.
And did I mention that we are passionate about bringing health care informatics a couple decades forward?
We can handle your ETL Plus* and custom app development challenges smoothly and affordably. Our efforts will enhance your BI capabilities. Call us to start a neutral and friendly ETL Plus outsourcing conversation. 512-478-3848.