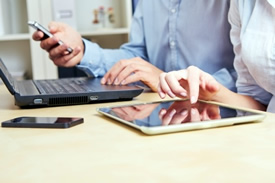 Over the last few years, a major trend was the creation of web applications that can adapt to any device and different screen sizes. A web application is now simply expected to be accessible from any device from laptops to tablets to smartphones, regardless of the screen size as well.
That in fact, is the trend now.
The fact that responsive or adaptive design is now the norm, rather than a trend. How a user is going to access a particular application is no longer a matter of thought. Whether he uses a tablet or a smartphone or any other device, the application is supposed to work across all of these now. I mean, with the way the usage of mobile devices has grown over these last few years, would you even consider developing an application that is not responsive?
Don't think so. In 2016, the need to develop anything less than responsive or adaptive will no longer be there and hence, responsive design as a "trend" will also no longer be there.
Our review of the top thought leaders' comments and findings on what the custom application development investment buzz will be this year includes:
Rapid Mobile Development
Driven with Cloud Technology
App Security
Location-based and Beacon Internet (Wi-Fi) Services:
M-commerce, Banking and Mobile Payments
Internet of Things (IoT)
Big Data and App Analytics
The Growth of Enterprise Apps
Marketing, Advertising and Purchasing within Apps
HTML 5
We'll give you our curated insights into what's vital in healthcare custom apps development in another update.
If you see you're getting bogged down and behind your rapid deployment objectives curve, just email or call us at 512-478-3848. We can listen to understand your needs. And we could very well be a great match to partner with you and catapult you up to the top of your business intelligence wave.